Ahead of its twelfth season, Belleville Downtown DocFest announces a new Festival Coordinator to lead the 2023 documentary film showcase.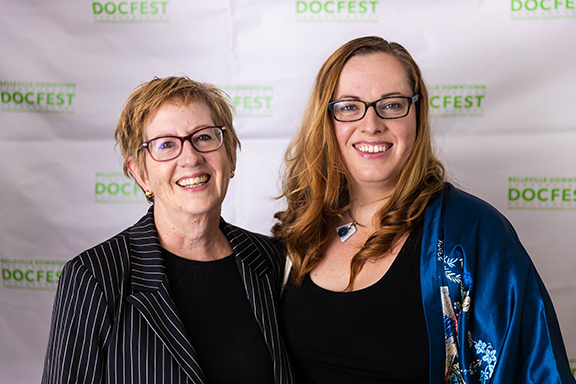 Festival Board Chair Holly Dewar and new Festival Coordinator Jodi Cooper
Photo credit: Brady Rogers
Jodi Cooper is a local filmmaker and creative professional, with a keen interest in supporting artists and their work. She has been active in the filmmaking community as a writer, director, and producer of several award-winning short films. Most recently she has been providing writing and story support for the locally produced television series Stoney Lonesome airing on Bell Fibe.
"Documentary films provide an immersive way to learn about society and the world around us," said Cooper, "and film festivals provide a much-needed opportunity to connect with one another. DocFest is building community through art, I'm so excited to be a part of that by joining the DocFest team as the coordinator."
Festival Board Chair, Holly Dewar said the festival organizers are thrilled to have Jodi as the new coordinator. "Her wealth of experience in filmmaking and her commitment to community building will strengthen and grow the festival," said Holly.
For its twelfth year, DocFest is planning a return to in-person events while also offering online screenings between March 3 and March 12, 2023.
Get the latest festival news here, and don't forget to subscribe for email updates.