Belleville Downtown DocFest is a community oriented documentary film festival featuring outstanding films that celebrate life and human dignity around the world and right here at home.
DocFest's mandate is to promote awareness and understanding of what's happening around the world through the screening of outstanding documentary films, many of which might not otherwise come to this community.
The film festival strives to promote awareness of global and local issues with social, cultural, economic, and environmental consequences and ultimately to be a catalyst for civic participation and actions resulting in positive change.
DocFest provides an opportunity for community involvement for audience members, local filmmakers, not-for-profit agencies and organizations, volunteers and students.
Land Acknowledgement
Belleville Downtown DocFest is located within the traditional territory of the Anishinaabe and Haudenosaunee. We acknowledge that they have been present on this territory since time immemorial and we are grateful to have the opportunity to work in the community, on this territory.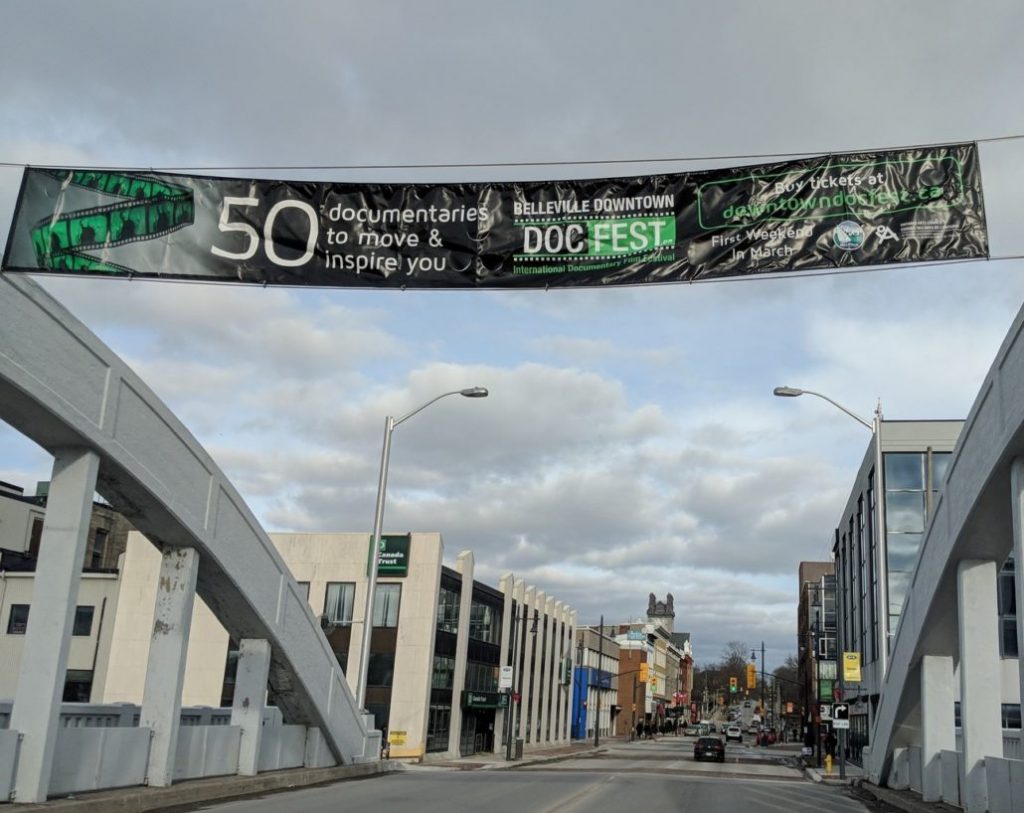 Subscribe to receive the latest news and announcements in your inbox.
More than 50 FILMS FROM AROUND THE WORLD
The Downtown Docfest film catalog is available all year at the Films page. You also can browse the archives for previous years back to 2014!
Local Filmmakers
DocFest works to develop the art of documentary filmmaking at a local level, providing artists in the immediate and surrounding area with an opportunity to screen their films to a wide audience, interact with filmgoers, network with other filmmakers and develop their skills through a series of workshops.
DocFest supports independent filmmakers from any geographic region; anyone can submit a film to the festival for consideration. We understand that documentary film festival screening opportunities are few and the submission numbers place importance on DocFest being a potential development opportunity for independent artists.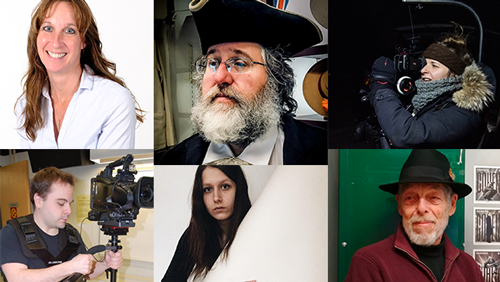 Local filmmaker programming information and film descriptions are available on the Films page, click the filter for "Local Selections" for a quick look at all the local films in the festival.
LOCAL PEOPLE
DocFest is made possible by many people from across our community – all contributing in a variety of ways to support the Festival.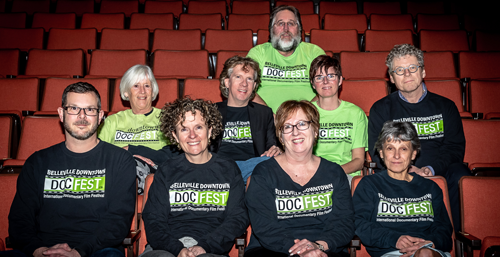 Film Sponsors
DocFest invites local social agencies and not-for-profit organizations to sponsor a film that may or may not be related to their work in the community. We ask for assistance in promoting the festival and a representative from the organization has an opportunity to introduce the film. The suggested minimum film sponsorship is $150. All sponsors are recognized on our website and in the film pre-roll shown before the film.
Volunteers
Volunteers are integral to the successful running of the festival. If interested please email us at docfestvolunteers@gmail.com and we will contact you. To learn more about volunteer expectations and benefits, visit the Volunteer page.
Students
Loyalist College Post-Grad Public Relations students assist with DocFest promotion and advertising. Belleville Downtown DocFest will be hosting a screening of documentary films made by Loyalist College FTVP students.
Submit a Film
Our festival is a non-competitive event focusing on human rights, social/environmental justice and arts & culture.
Film Submissions for Belleville Downtown DocFest: International Documentary Film Festival open in September and close December 15th annually.
News & Updates
That's a wrap for Belleville Downtown DocFest 2023 edition. Festival Board Chair Holly Dewar, Bay ...
Read More
Are you traveling to attend DocFest 2023? If you're joining us from out of town ...
Read More