Ticket and Pass sales are open for the 2022 Belleville Downtown DocFest.
DocFest 2022 Film Festival Passes are on sale now.
50 Films. Gala Music Doc & Live Music. Filmmaker Q&A's. 10 Days from March 4-13, 2022
The 11th Annual Belleville Downtown DocFest is all about celebrating film, music, art and our resilient community. We're excited to announce DocFest's return to an in-person Gala Film & Music experience at The Empire Theatre as well as an online film festival that you can enjoy from the comfort of your home.
We'll stream 50 outstanding documentaries, including the Gala Film and Music performance, and Q&As with renowned filmmakers. You can choose to attend online only or to come out to the in-theatre Gala and then catch the DocFest films virtually as part of your own "at home" film fest.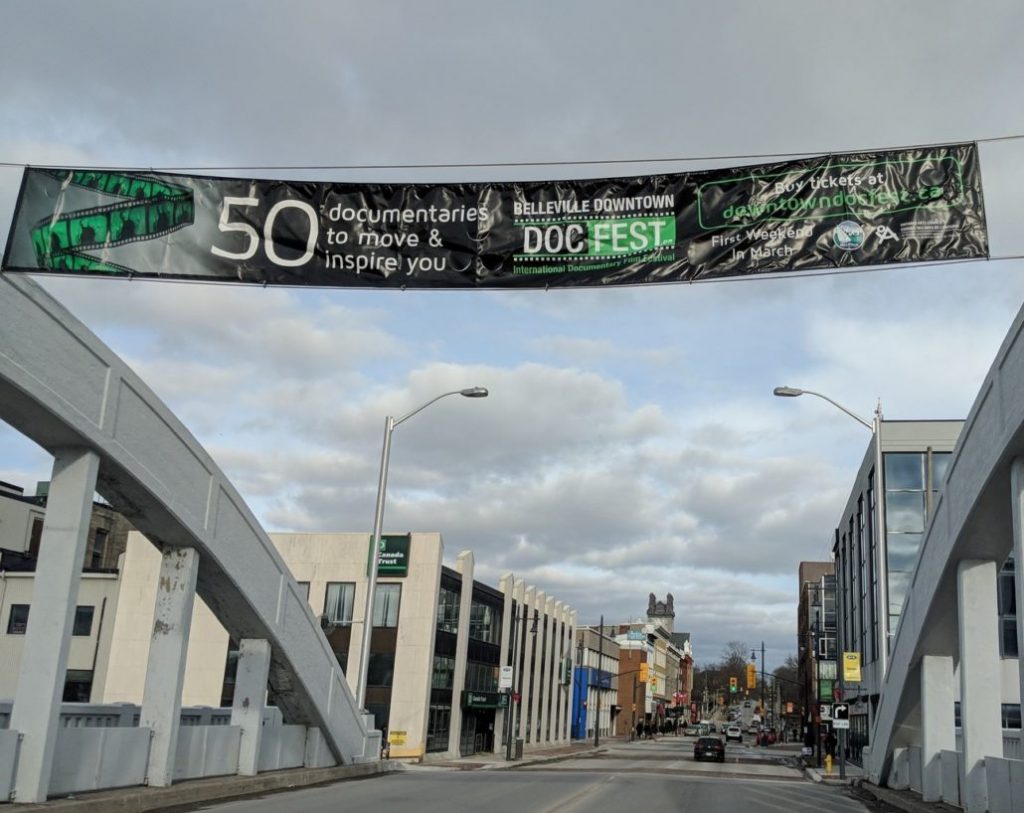 Subscribe to receive the latest news and announcements in your inbox.
Online Passes and Gala Tickets
This year we've got even more ticket options! Our discounted Ticket Packs give you a chance to save more and stream lots of great films online. Exclusive entry to our Gala Film & Music event is bundled with our premium on-line passes to give you even more bang for your buck.
Tickets provide access to selected films for on-line viewing within Ontario only. Once films become available during the Festival, viewers have 3-days to unlock them and 24 hours to finish watching them.
Online ONly TICKET PASSES
Bronze – $65
6 films for the price of 5
Silver – $80.00
12 films for the price of 6
Gold – $100.00
Actual value of $312
IN-PERSON GALA PASSES (include online films)
Single Gala Ticket + Bronze – $100
Actual value of $118
Two Gala Tickets + Bronze – $120
Actual value of $158
One Gala Ticket + Silver – $120
Actual value of $196
Two Gala Tickets + Silver – $140
Actual value of $236
One Gala Ticket + Gold – $140
Actual value of $352
Two Gala Tickets + Gold – $160
Actual value of $392
Each in-person Gala Ticket is bundled with an online pass so you can attend our Gala event as well as watch online for a great price. Those who purchase a Gala ticket can reserve their seats within the theatre as well as book the online viewings once announced.
We want to assure those who plan to join us for the live Gala at The Empire, that the event will be in compliance with all Covid-19+ public health regulations.
All tickets are Non-Refundable. In the event that health restrictions require the in-theatre Gala to be cancelled, DocFest will provide 3 additional online film views to all Gala ticket holders (6 additional online film views for 2 Gala Ticket + Pass holders)
Single Tickets ($13)
Single tickets for the films in the 2022 Virtual Festival will be available during the festival. With a single ticket you can view one film.
During the Festival (March 4-13 2022) you'll be able to browse all the films and buy single tickets to watch the screenings of your choice.
FREQUENTLY ASKED QUESTIONS (FAQ) And AUDIENCE SUPPORT
During the Festival you'll have access to full 24/7 audience help and support directly from the screening page.
You'll be able to watch on a variety of platforms and devices including Roku, Amazon Firestick, Android TV and Apple TV.
For complete details and frequently asked questions about the technology requirements of this year's festival, please see the FAQ page here.
How will it work?
As we develop the 2022 program of films, we'll announce new films we add by email. Make sure you are subscribed to receive updates.
Once all the films are listed at the end of January 2022 – you will be able to pre-register for each film you would like to see. We will let all passholders know when pre-registration opens.
Pre-registering or reserving a screening is a great way to make sure you don't miss any of your must-sees.
During the Festival (March 4-13 2022) – you will receive an email notification when the screenings you have reserved become available.
All screenings will be available for a 3-day window and you'll have 24 hours to watch a film once you've started viewing it.
STAY TUNED…