Virtual Festival
Friday March 5th to Sunday March 14th
We're thrilled to announce that our full slate of films and the 2021 schedule are available! Browse the 50+ docs, watch the trailers and plan your festival experience at the Virtual Festival page.
Films will be released to watch for three days on a staggered schedule during the Festival from Friday March 5th through Sunday March 14th.
You can plan your schedule by using your pass to pre-order your favourites. Just select a film from the Film Guide and click on the "Pre-order now" button. You'll get an email reminder when your pre-ordered films are available, providing a convenient way to make sure you don't miss any of your must-see docs.
You don't need to pre-order if you prefer to pick your films during the Festival, just remember all of the films are only available for 3 days each.
Here is a quick guide to "Pre-ordering" films with your festival pass!
If you already have a Pass, Pre-ordering films is easy.
Browse the Film Guide, Click on a Film Cover, or a Screening in the Schedule. Then you can "Pre-order":
Step 1. Click on the "Select a Showing" button on each film or screening.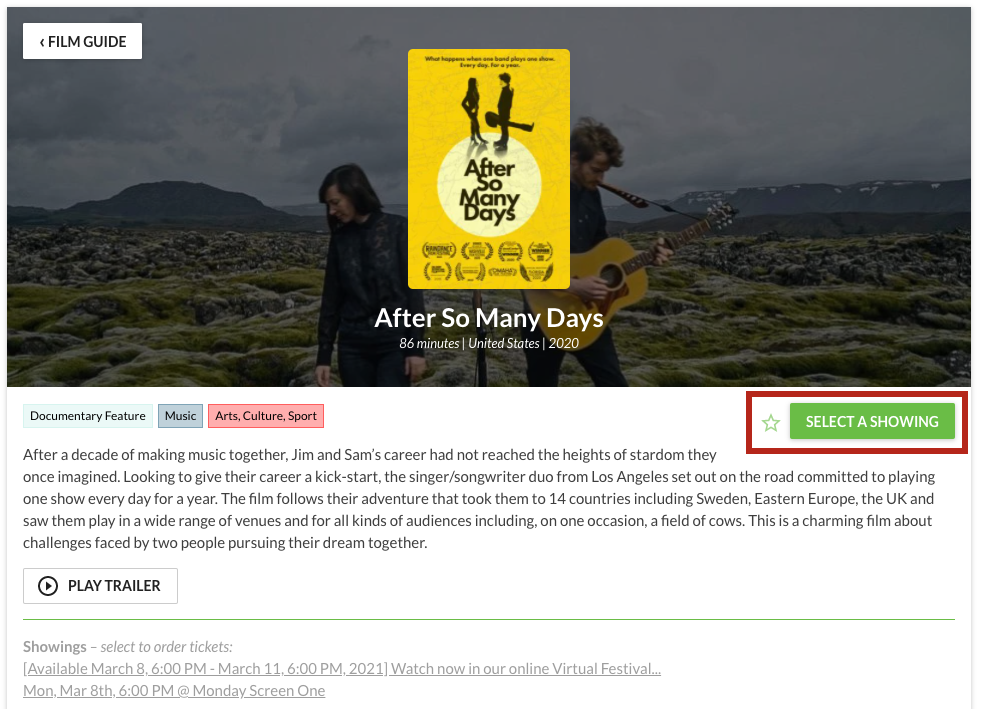 Click on the "Select a Showing" button to open the film on Eventive. This will open in a new tab or browser window.
Step 2. Click on the "Pre-order now" button on each film or screening.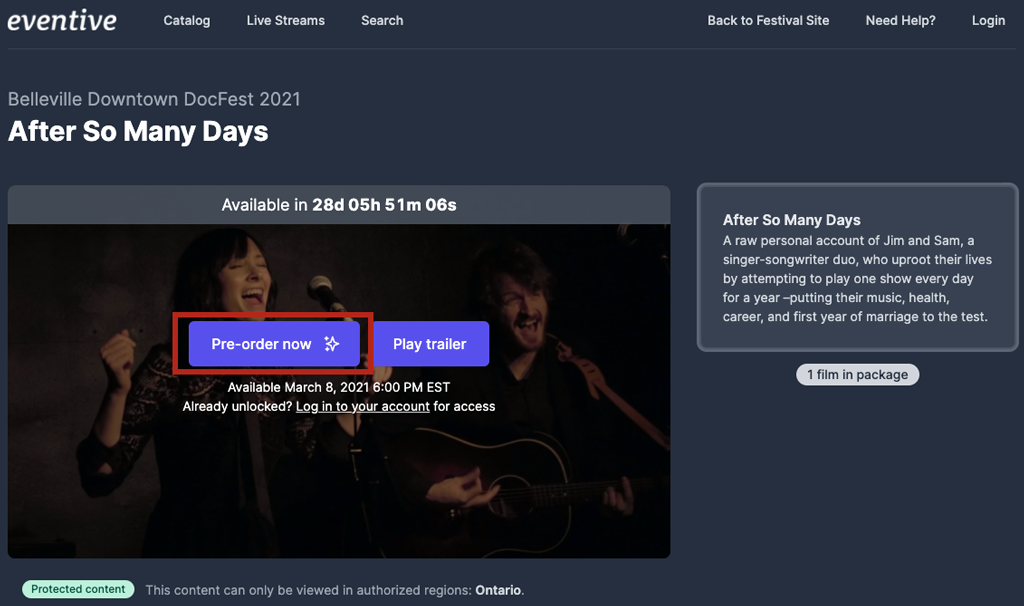 Click on the "Pre-order now" button.
If you are logged in, and already have purchased your pass, this button will appear as "Pre-order now for free".
When you are successfully logged in and click the "Pre-order" button, you will see a window open and receive a message that you have "Pre-ordered successfully".
You will receive a confirmation email from Eventive.
These emails will include details of the film you have "Pre-ordered" and details about how and when to "unlock" the film. The email will look like this:
Thank you for your order with Belleville Downtown DocFest 2021.
Your order includes 1 unlock of "Film Title".
The screening "Film title" is scheduled to be released March 6, 2021 6:00 PM EST. You'll have until March 9, 2021 6:00 PM EST to start watching. Once you begin, you'll have 24 hours to finish watching.
When the screening begins, you can access your streaming media via our website by clicking the button below. We'll also send you an email reminder.
Looking for a Festival Pass?